Contributed by Bob "Oxygen Man" Rawlins, oxygen user and consultant to CAIRE Inc. ~ 
So, Easter has come and gone … zips on by and here we are at the end of the fourth month of 2021 — Already!!! Crazy how time seems to fly. Try to make the best of it, right?
I often catch myself not counting the right things.
We remember what we should be doing, but do we remember what we've done?
Do we get caught up in counting the things people do wrong instead of remembering what they do right?
I think we all can tend to complain more then providing solutions. It is so easy to complain but should it be that difficult to offer a solution or suggest a change. That is a good definition of a blessing to me.
Imagine if we went through life just finding things that are wrong. Can't work right?
Your caregivers just tell you all the things they can't do for you instead of doing what they can for you. Man, that would be ugly. 😊
It takes a getaway for me sometimes to realize this counting of blessings (instead of sheep) works. Plus, Bing Crosby sang this to Rosemary Clooney in that famous scene from "White Christmas," … sigh.
The family and I went to Hocking Hills right before Easter. It is God's country. You forget you are in Ohio! It's a beautiful state park with tons of trails and things to do.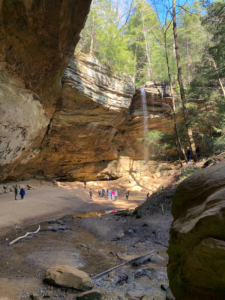 They had wheelchair accessible places that were just breathtaking. Even though I couldn't hike like I used to there was still tons to see. I found myself counting those blessings as experienced its natural beauty.
My family and friends that came with us went to so many places and got some amazing pictures. There will be an album made as a keepsake soon.
Its so inspiring to see places for the first time or even go back to those that have always inspired you in the past.
Inspiration comes to us in so many ways.
"Inspiration is a feeling of enthusiasm you get from someone or something, that gives you new and creative ideas … If you describe someone or something good as an inspiration, you mean that they make you or other people want to do or achieve something." ~ Collins Dictionary
I read that and loved it immediately. There is other great stuff on that site.
This is a blessing, finding inspiration and accepting it.
You can get inspiration from just going to cool websites.
At Hocking Hills, there was this one cave called Ash Cave.
I drove my bike to the end of the wheelchair access trail and found myself thinking I wasn't in Ohio anymore. LOL.
It opened to this huge rock structure, you couldn't really see the sky through the structure and the trees. It was so big that the people I did see several yards away were tiny against the view.
I was sitting on a rock that sort of overlooked the cave, soft sand and rock veins with waterfalls in view. Even pictures can't really describe or do the site justice and I'm probably not giving you the best visual. But I had to stop and think how cool it was and counted that blessing, I was there with my family and friends.
When I was healthy, I didn't take the time to do it. But thankful I could now. I only wish I had made this trip many years ago. Count your blessings but continue to live new ones with others and achieve something.
And join me in the hashtag, #IHope2, making it something you want to do.
Be inspired by #Hope2 thoughts.
#IHope2
Come visit you soon and the rest of the family.
Play golf with the group.
Have dinner or lunch with someone special.
Attend a live event, play, sports venue.
Be on the right side of the grass tomorrow.
Yes, looking for the strength to get through today so you can #Hope2 enjoy tomorrow is another blessing.
Be Blessed, Be Positive, Be Inspirational, my friends.
#IHope2 see you next time.
#laugheveryday
#touchaheart
#Breathe-easy
Love you all,
Coach Bob, "Oxygen Man"
Bob Rawlins, 61, of Medina, Ohio, is husband to Terese and father to their 16-year-old triplets, a soccer coach, a hospital volunteer, band dad and chaperone, and marketing guru. He uses a FreeStyle Comfort portable oxygen concentrator and a transportable oxygen concentrator for overnight travel.   
If you have been prescribed oxygen therapy, learn more about CAIRE  by visiting www.caireinc.com/patients or by calling  1-800-482-2473 to talk to an oxygen advisor. The contents of this blog post are not intended to substitute for professional medical advice.
Please consult your physician for personalized medical advice. When using any oxygen therapy device please consult the applicable product instructions for use for product indications, contraindications, warnings, precautions, and detailed safety information.