Today's digital technologies have enhanced the ease of use and the way oxygen generation systems are managed by today's facility engineers.
One feature in particular — the touchscreen panel — has become an essential component included on AirSep Oxygen Generators. AirSep PSA Oxygen Generator Systems come equipped with a Schneider HMI 5.7" color touchscreen panel on the AS-Q to AS-Z models. It is also offered as an option on our AS-D+ to AS-P models.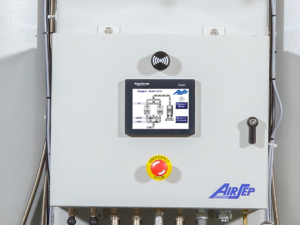 These AirSep systems that come with the Schneider color touchscreen HMI panel have the ability to collect operational parameters continuously. This data is collected and can be extracted using a memory stick to enable the user to analyze or track trends on a remote computer. HMI screens also can be accessed remotely for operation and monitoring of equipment using Webgate technology.
Advanced Features
Measurements

Option to be programmed for psig, kPa, or barg units of pressure

Language Support

Spanish, French, Russian, Traditional Chinese, Simplified Chinese, and English currently supported

Remote Monitoring

Diagnostic capabilities and Ethernet access

Email Notifications

Sent when reaching an alarm or shutdown condition while connected to Ethernet

System Performance

Quick PLC scan time, allowing for shutdown and alarm conditions to alert the system and user

Maintenance Alarms

Notifications for required maintenance based on how long the system has been running

Information History

Allows user to see how the unit has been operating

Operation Guide

Step-by-step instructions overviewing system start-up and shut down

Airflow Animation

Illustrates the direction in which the oxygen is flowing

Status Information

Displays system bits indicating alarms, shutdowns, bypasses, and run/standby

Reset Calibration

Auto-scale the pressure sensors

Data Logging

Pressure and concentration information may be saved with use of a USB memory stick in the HMI

Security

Allows access to specific features for those with correct credentials

Optional Flow Sensor

May be added via connection to the analog input card

Optional Auxiliary Pressure Sensor

May be wired in for information to display on the HMI
The HMI touchscreen offers many benefits. It is user-friendly and extremely convenient for capturing data and many details of the system. Watch our video by clicking the YouTube link below.
To learn more about how AirSep's extensive product offering can solve your oxygen supply challenges, please visit airsep.com or contact us. We will be happy to discuss your oxygen needs.