Proven Performance of Proprietary Design Features Demonstrated in Georgia State University Study —
Ball Ground, GA (March 30, 2022) — CAIRE's premier portable oxygen concentrator, the FreeStyle® Comfort®, outperformed other market leading devices in a recent study designed to assess the effectiveness of these devices in delivering oxygen to patients. The study, "Comparison of portable oxygen concentrators using a COPD patient simulation model," was conducted by Rachel Culbreth, PhD, MPH, RRT; Robert Murray, MS, RRT; Kyle Brandenberger, PhD; Douglas S. Gardenhire, EdD, RRT, RRT-NPS, FAARC with the Department of Respiratory Therapy, Byrdine F. Lewis College of Nursing and Health Professions at Georgia State University in Atlanta, GA.
Researchers compared the oxygen output of eight competitive devices that currently comprise the majority of the portable oxygen therapy market, along with control group systems including a stationary oxygen concentrator and wall output oxygen similar to what a patient would receive in a clinical environment. Each device was assessed based on its ability to deliver oxygen in a variety of situations intended to model real-life use.
In the US, it has been reported by the Annals of the American Thoracic Society that more than 1.5 million adults use supplemental oxygen for a variety of respiratory disorders. If prescribed and used properly, supplemental oxygen can improve the quality of life and prolong survival for these individuals.
The GSU study demonstrated the CAIRE FreeStyle Comfort achieved higher FiO2 compared to all other POCs in seven out of the eight scenarios. FiO2 is defined as the percentage or concentration of oxygen a person inhales. Based on this information,  the study concluded that clinical providers should account for their patients' respiratory rate demands when recommending specific POCs.
Presentations of the data were shared at the virtual 2021 Congresses hosted by the European Respiratory Society (ERS) and the American Association for Respiratory Care (AARC). GSU researchers will be publishing the accompanying white paper in a medical journal in the coming months.
Introduced in 2018, the FreeStyle Comfort has earned recognition from its peers, and has been distributed to hundreds of thousands oxygen users globally. Offering smart oxygen delivery features, the FDA-cleared FreeStyle Comfort offers UltraSense® sensitive breath detection, autoDOSE safety technology, and can be connected to the myCAIRE™ telehealth solution. Outside of the US, the FreeStyle Comfort offers the additional autoSAT® technology which adjusts flow to keep pace with the user's breath rate during rest or activity.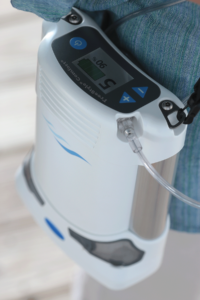 "Portable oxygen concentrators are intended to allow patients to maintain a more active lifestyle despite the constraints which COPD or other respiratory conditions might introduce. The FreeStyle Comfort was specifically designed to optimize oxygen delivery in situations where the patient is not at rest in order to enable them to comfortably enjoy life outside the home," said Barry Hassett, Vice President of Global Marketing. "This study confirms that the FreeStyle Comfort meets those objectives — ensuring patients get the oxygen they need when they need it."
To view the poster presented at ERS, please click this link. To view the information presented at AARC, please click this link.
For more information about the FreeStyle Comfort portable oxygen concentrator, visit https://www.caireinc.com/product/freestyle-comfort-clinicians/.
Ref: MR-CORP0014 A