University of Oklahoma Engineering Students Use Eclipse 5 Shell For Senior Capstone Project
Ball Ground, GA (March 17, 2023) — CAIRE Inc. recently had the opportunity to support a very unique project in collaboration with Pediatric Oxygen Concepts (PO2C) and the University of Oklahoma. Engineering students in the Gallogly College of Engineering are tackling the issue of designing devices for children requiring supplemental oxygen therapy to improve their mobility and quality of life as part of their Senior Capstone project.
Because the Eclipse 5 transportable oxygen concentrator is one of the few concentrators approved for children prescribed continuous flow, CAIRE donated a device shell to the university to serve as the model for the engineers to work with for their prototype throughout the design process.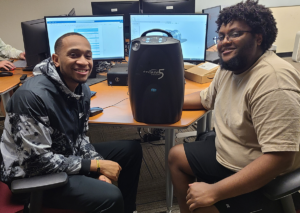 Each year, the college opens up their Senior Capstone programs to corporate partners who are interested in engaging future engineers in real world projects. One of the problems PO2C is trying to solve is a child's ability to attend school on continuous flow oxygen. Many children struggle with transporting large equipment or tanks and are limited by the battery life on continuous flow concentrator.
PO2C brought the oxygen project to the college with four teams jumping at the chance to work on it. Over this academic year, students representing the electrical, computer and mechanical engineering programs will work together in groups to create a prototype to carry and power a portable concentrator for an entire school day. A prototype will be unveiled in May to children who are living with oxygen therapy, and they will have the opportunity to share their feedback.