Contributed by Natalie Haglund, consultant to CAIRE Inc.~ 
Living with a lung disease sometimes means using supplemental oxygen. That might be in the form of portable oxygen tanks or a portable oxygen concentrator (POC). As a person that was busy and active pre interstitial lung disease, it has taken me awhile to adapt to carrying along supplemental oxygen. Now grabbing my portable oxygen concentrator is as second nature as grabbing my purse on the way out the door. I have mental checklists I go through to be prepared for this and have learned a few things along the way. I'll give you some things to think about based on my experiences.
Whether you use oxygen tanks or a portable oxygen concentrator, learn your device. You'll want to know how long an oxygen tank, or a battery is going to last. Will it run out faster if you have to turn your setting up? Do you have a conserving device (on demand device) for your tank? Do you have a full tank or fully charged POC battery? If not, how long will that last? Years ago, when I carried around small portable oxygen tanks, I was able to use a conserving device and knew approximately how many hours a tank would last.
At this time, I'm able to use the FreeStyle Comfort and I have two rechargeable batteries. I know approximately how long a battery will last and plan accordingly. When I return home from being out and about, one of the first things I do is plug in my POC to recharge the battery. That way it is ready to go the next time I leave. If I need to charge on the go I am able to plug it into my vehicle.  When I had oxygen tanks, I was able to refill them myself utilizing a home fill oxygen system, and the same thing applied,  when I got home I would start filling them up so they would be ready to go when I needed them.
Bring an O2 to go bag. I've got a bag that I grab along with my POC to put in the car. Currently I carry my charging cords, both electrical outlet and motor vehicle chargers, my extra battery, an extra nasal cannula, a few alcohol swabs (in case I need to wipe anything off), a pulse oximeter, and my extra carrying case (i.e., in case I want to go from backpack to side carrying bag). When I carried oxygen tanks, I had a zip top bag on wheels with a handle to pull it, to put them in. A big lesson I learned the hard way with oxygen tanks, was to always carry the "key" to open and close the valve on the tanks.
One weekend I went out of town, had all my tanks filled and packed up. When I arrived at my destination, I realized I didn't have a "key" with me and no way to open the valve on the tanks. Thankfully I was in a larger city and a medical supply store was open on a Saturday morning. I went in and asked to purchase a "key." After hearing my situation, the woman working there gave me two and told me to put one on my car key ring. I did just that and it's still on the ring with my car keys. I don't think I'll ever take it off.
Before you head out the door think about where you're going and what you'll be doing. Will you be outside or inside? Can you bring your O2 to go bag with you or will it have to stay in the car? Are you going somewhere that you'll have to go through security checks? I love going to concerts. I always check the venue website to see what their bag policy is. Venues do allow medical bags/equipment; however, they can be different depending on how and where you enter. I've been to arenas where I can walk through regular security with my portable oxygen concentrator. I've also recently gone to a concert at a larger venue that required me to go through a specific gate (entrance) that had the ability to do bag X-ray screening. Once security was done, they put a wrist band on the strap of my POC to show that it had been checked and cleared.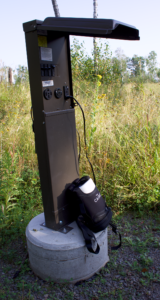 Camping! I love to hike and camp. I typically car camp for a couple of days at a time and charging my POC in the car isn't always the most ideal in this situation. Staying at a campsite with an electric hook up is a game changer. I stay at state parks and the booking website states which campsites have electric or not. So helpful! I haven't done any air travel with a POC. Hearing about others' experiences and from what I've read online, there is a process and needed documentation for bringing equipment onto an airplane. If you are going on a flight, check well ahead of time with the airline(s) you'll be traveling with for their specific requirements.
Taking O2 on the go can be overwhelming at first. Having a plan and being prepared will help. The more you do it, the more routine it is. It's a great feeling to be able to get out and participate in life. Lung disease can change the process on how we do that, but it certainly can't stop us.
Natalie Haglund, 50, diagnosed with Idiopathic NSIP (a type of interstitial lung disease), lives in northern Minnesota where she works as a Licensed Practical Nurse (LPN) in the operating room. She enjoys photography, hiking, concerts, crafty projects, and time with her 23-year-old daughter, friends and family.
If you have been prescribed oxygen therapy, learn more about CAIRE by visiting www.caireinc.com/patients or by calling 1-800-482-2473 to talk to an oxygen advisor.
The contents of this blog post are not intended to substitute for professional medical advice. Please consult your physician for personalized medical advice. When using any oxygen therapy device please consult the applicable product instructions for use for product indications, contraindications, warnings, precautions, and detailed safety information.