Contributed by Bob Rawlins, consultant to CAIRE Inc. ~ 
Superhero Day wasn't too long ago. What or whom did you think about on that day? Some look to the Marvel characters, Transformers, DC Comics, etc. …
You might have thought of your dad, mom, friend, kids, or someone you work with.
On this journey we are on involving chronic lung disease, superheroes are abundant to me. But, there are always those that stand out above the rest.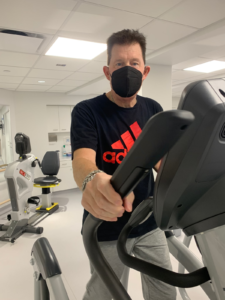 In my experience pulmonary and cardio rehab have many. These superheroes can make all the difference in your on-going strength and mental toughness every day. If you don't have this support then I would suggest you find a new program. This is such an important part of your health and establishing a better quality of life routine.
In my journey I have found my "Fab Five" and "Sensational Six" depending on my session. The Fab-5 are so talented. They all work together, and you can meet and work with them while you are under their care. They care about how you are progressing. They take the time to know your situation and work on exercises and routines that will improve your quality of life. Akron General Cardio and Pulmonary Rehab, a Cleveland Clinic facility, is the best in my area.
These people are superheroes.
There are many weak and sick patients in these groups sometimes and they know how to take care of them, but more importantly, they have the patience in caring for them. Now, you can say that is expected, agreed. But, how many times have you been in a similar scenario and the people on the service side are downright rude? It amazes me they have jobs still. Anyone can have a difficult day, agreed, but not caregivers. They do, but not here.
Also, they are understaffed for the most part, like doctors, nurses, and hospital caregivers. They're pulled in many directions by different patients with the same illness, but affecting them in completely different ways. Even with the multiple ways lung and heart disease can impact these individuals, these superheroes meet it all with kindness and caring.
In the world today you can always see or feel when someone is having a difficult day. You might steer clear or try and ask if you can help. Since I've been here, I can't tell when they have a difficult day. They are always ready to help.
Two of the caregivers I've worked with have not only helped me through my recovery, but are graduating from college this year. Burning a candle at both ends can make for a tough challenge, their attitude is always stellar to the patients. Another is newly married with a partner that is dealing with cancer, working, and caring both here and at home. You'd never know it. The nurses are so involved with every patient and leading the group to flawless execution of all patients involved in the program. The others help tremendously and make you feel good, and they are not only smart as can be, but so caring about your individual progress. Their talent is also unmatched by many. I will miss them all when I graduate from the program. ☹
These people are real superheroes to me.
Taking nothing away from the fictional heroes we have learned to know and love throughout the years. Now with me five months post double lung transplant, I think I might pass for Superman! 😊  After all, a lung transplant is not for wimps!!!
The point being, you don't have to be a fictional character to become a superhero. Volunteer your time to help others. Especially those on the same illness journey or other journeys. We can all become superheroes by sharing our ups and downs through life. More importantly, how you dealt with and got through those times. Sharing offers increased knowledge for others.
Friends don't ever think you can't be a hero to someone. We don't always know what someone is going through or struggling with, but kindness might be all they need.
Be super my friends!!!
Till next time,
#Touchaheart
#smileandlaugheveryday
#breathe-easy
#inspirationcures
Love you all,
Coach Bob
Bob Rawlins, 64, of Medina, Ohio, is a double lung transplant recipient and a patient advocate for those who suffer from respiratory diseases and have been prescribed supplemental oxygen therapy. He is husband to Terese and father to their 17-year-old triplets. He also has two grown twin sons and four grandchildren. He serves as a hospital volunteer, band dad and chaperone, and marketing guru. 
If you have been prescribed oxygen therapy, learn more about CAIRE by visiting www.caireinc.com/patients or by calling  1-800-482-2473 to talk to an oxygen advisor.
The contents of this blog post are not intended to substitute for professional medical advice. Please consult your physician for personalized medical advice. When using any oxygen therapy device please consult the applicable product instructions for use for product indications, contraindications, warnings, precautions, and detailed safety information.