Contributed by Bob "Oxygen Man" Rawlins, oxygen user and consultant to CAIRE Inc. ~ 
Now, some of us will take our family, friends, and others on vacations.
I'm no different. I have "Ollie," the oxygen tanks, "Carl," my CAIRE FreeStyle Comfort portable oxygen concentrator, and of course, "Eileen," my eQuinox transportable oxygen concentrator as well. They are very much a part of my family – my life.
My family has grown while on this journey and rightfully so. I can't live without them in my life. And my living family members are just as in love with them as I am. LOL
When we plan our vacations, and the time draws near … the dreaded packing begins.
How many suitcases do we need? The pain of it all. This topic of conversation is always a sore spot with this crew.
How many pairs of shoes do women need to bring on a weeklong vacation?
To the beach no less. Swimsuits and bare feet is what I bring. Maybe a pair of REEF sandals and Sanuks as well.
But the girls, it's crazy. LOL. They have five bags, and my son and I have two tops. Plus, I would like to point out that we never come close to wearing everything we pack. The girls don't come any closer, but always come back with more. The necessary new outfits!
Sound familiar? All fun and games once we get on the road to our destination. Very much a part of the journey.
Planning is a bit more necessary today because of my daily supplemental oxygen therapy needs. Here are a couple of steps to take if you are hitting the road sometime soon.
First:
Call your oxygen supplier far in advance and talk over what supplies you'll need. I have found it is much easier to have a large stationary oxygen concentrator delivered to your location ahead of time.
Don't forget to order the necessary tubing/hosing as well, along with any cannulas or sleeping aids.

Having a large concentrator with proper length hosing will make it easy to replicate your current home system while you are away.
Also, having the right supplier is so necessary when you travel. Some aren't nationwide and you will be required to pay extra for certain requests or items. I have been traveling for years and my current supplier delivers compressors, tanks and hosing for no additional charge. It is all part of my insurance coverage. BONUS!

Be sure to pack all of your portable equipment and accessories. I pack all my portables and regulators with me. A few cannulas and definitely extra batteries.
I've learned packing clothes is the easy part. Making sure I have the right equipment to ensure my survival needs is a bit more stressful. I take my time and review until I'm ready.
This exercise is so important so you can get on with vacationing more quickly and more safely. No one wants a crabby "oxygen man."
On my recent beach vacation this past month I took my portable oxygen concentrator along with my portable backup oxygen tanks.
Being able to maneuver the walking in the sand and sitting on the beach or even taking a waste high dip in the ocean isn't as easy as it used to be. But so worth the planning and execution.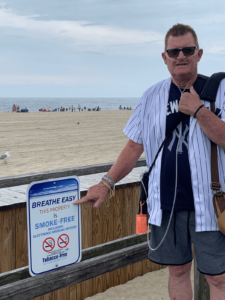 I love being on the beach, feet in the sand and breathing easy. It takes longer to get to that relaxation point, but so do a lot of things these days. But if you are like me we need to keep doing them, but now mindful of our own speed and risk. Staying safe and being smart is key.
No different then anyone really. You can't just dive in the ocean if you don't know what to expect, right? You better know how to swim. I haven't figured out a safe way to bodysurf yet, but I will. Trust me!
At the beach the humidity is tough at times and obviously not a friend for those of us with a respiratory condition. Making sure you have enough oxygen to be comfortable is so key.
I always run these vacations by my doctors so they can help me prepare as well. We should encourage ourselves to continue to enjoy these treasures and not shy away from them.
Sitting in the sand with your circle of friends, reminiscing, laughing and healing is priceless. We all have challenges, but nothing that a good day in the sand or walk along the beach that can't fix.
Enjoy my friends, I really did this last vacation.
Till next time!
Breathe-easy.
Laugh every day.
Touch a heart.
Put your feet in the sand!
Love you all,
Coach "Oxygen Man" Bob
Bob Rawlins, 61, of Medina, Ohio, is husband to Terese and father to their 16-year-old triplets, a soccer coach, a hospital volunteer, band dad and chaperone, and marketing guru. He uses a FreeStyle Comfort portable oxygen concentrator and a transportable oxygen concentrator for overnight travel.   
If you have been prescribed oxygen therapy, learn more about CAIRE  by visiting www.caireinc.com/patients or by calling  1-800-482-2473 to talk to an oxygen advisor. The contents of this blog post are not intended to substitute for professional medical advice.
Please consult your physician for personalized medical advice. When using any oxygen therapy device please consult the applicable product instructions for use for product indications, contraindications, warnings, precautions, and detailed safety information.
Image by Peggy Dyar from Pixabay