Contributed by Natalie Haglund, consultant to CAIRE Inc.~ 
Eight years ago, I was diagnosed with idiopathic nonspecific interstitial pneumonia (NSIP). An interstitial lung disease that has had me on, off, and on supplemental oxygen. I've used several delivery systems including large home oxygen concentrators, portable oxygen concentrators, and small portable oxygen D tanks. Each served their purpose at different times. Carrying around oxygen is a very noticeable accessory and comes with its own set of feelings.
In February 2015, I was prescribed oxygen for the first time. I was relieved. I could get through my day with less shortness of breath and less exhaustion. I was able to do more in a day. It wasn't all easy breezy though. It took effort, time, and planning to make it work for me to get through a 9 to 10 hour day. I had small, refillable D tanks and was able to fill them at home through an attachment on my large home concentrator. I was able to use a conserving (on demand) device on the tanks which helped them last longer. I quickly learned how long a tank would last me. Every day I would have to pack up and haul two to three D tanks with me to get through a day of work. I also figured out how to carry the tank I was using in a backpack so I could be hands free. I called it my set up my "gas tank." At times this was a lot to manage and sometimes I was overwhelmed. You might be thinking, why didn't I just use a portable oxygen concentrator? Several reasons. At that time, it was the best option that my medical supply store could provide for me with the insurance coverage I had. At that time, I knew there were portable concentrators out there, but I didn't know anything about them, and it was a difficult time for me. I was just trying to get through (full time) work one day at a time, I was still going through tests to find a diagnosis. Taking on a task to figure out an alternative just wasn't on my radar.
At the end of April 2015, I had tests and appointments at a world-renowned clinic here in Minnesota. It's five hours away from where I live, and I was going to have to stay down there for up to a week. I couldn't bring my whole home concentrator set up with me. I found out my medical supply store was able to loan me a portable concentrator. It was a larger unit, the battery only lasted two hours, and I had to haul it around on a cart (the same way a suitcase on wheels is pulled around). It wasn't ideal, but I was able to make it work. Everywhere I went with it I looked for an electrical outlet!
This was how I lived life from February 2015 to November 2016. It was a glorious day during a routine checkup at the clinic when I did well enough on my oxygen titration test that I could go about my day without any supplemental oxygen. Several things contributed to this, which is a story for another time.
Fast forward to August 2022 … during a routine checkup at the clinic, my oxygen titration and pulmonary function tests showed a slight dip. When I found out I qualified for supplemental oxygen again, I immediately had tears in my eyes. I felt sad, nervous, and scared of what it all meant. I was angry at my lung disease. I now need to use oxygen during exercise, and activities that exert me such as hiking, etc. This time, my medical supply store was able to provide me with a portable oxygen concentrator. The unit is kind of heavy, kind of big in size, and the battery only lasts four hours. It was an improvement from the first go around I had, but I felt there could be something better.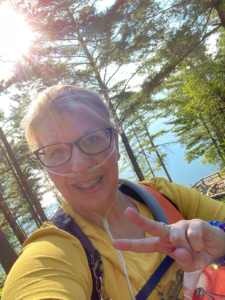 After doing some research, I found the CAIRE FreeStyle Comfort. I've been using this portable oxygen concentrator (POC) and am so happy with it. It's small, light, and I not only have a four-hour battery, but also an eight-hour battery! Game changer. I'm so excited to go hiking this summer, and relieved that I can do it without having to worry about recharging a battery in my car or looking for an electrical outlet. Places to plug in my POC are sparse out in the woods!
Those are the logistics of my oxygen experience, but there's also other stuff that comes along with it. Carrying around supplemental oxygen in any form can make a person feel self-conscious. Most of the time I don't feel self-conscious, but I do have an awareness of folks looking at me. I've been asked questions about my oxygen more times than I can count. Adults will typically ask me if I have COPD. I politely respond, "no," and if they want to know more, they'll ask more questions, which I answer. I try to keep it short and simple. Kids are easier. Their stares are more obvious, because let's face it, they're kids. Most often their question is, "Why do you have that?" I reply, "it helps me breathe better." That typically satisfies their curiosity. I've learned that strangers don't need to know my whole health history, but I am happy to inform folks about my lung disease. I've learned to sort out who really wants to know, and not overwhelm those who aren't looking for all the information.
Using portable oxygen takes adjustments and adaptations. It can invoke many feelings and worries. But as someone who is seasoned on this topic, I can tell you that it can make things easier in a lot of ways and enhance quality of life. It has allowed me to do fun activities and make memories with family and friends. I'm very grateful for that.
Natalie Haglund, 50, diagnosed with Idiopathic NSIP (a type of interstitial lung disease), lives in northern Minnesota where she works as a Licensed Practical Nurse (LPN) in the operating room. She has a 22-year-old daughter, and a 14-year-old cat named Ed. She enjoys photography, hiking, concerts, crafty projects, and time with friends and family.
If you have been prescribed oxygen therapy, learn more about CAIRE by visiting www.caireinc.com/patients or by calling 1-800-482-2473 to talk to an oxygen advisor.
The contents of this blog post are not intended to substitute for professional medical advice. Please consult your physician for personalized medical advice. When using any oxygen therapy device please consult the applicable product instructions for use for product indications, contraindications, warnings, precautions, and detailed safety information.