Oxygen therapy's role in the global COVID-19 fight, supply chain needs remain in the spotlight —
Jim Mullinax, the U.S. Consul General to Chengdu, recently paid a special visit to CAIRE Inc.'s production and distribution facility in Chengdu, China, to learn more about the company's global work to aid patients fighting the novel coronavirus, COVID-19, and the challenges and support needed to ensure continuity of a supply chain to sustain efforts.
The visit by the U.S. Embassy and Consulate was well-timed based on the heightened level of focus to procure parts and export products to serve the front line of individuals requiring oxygen therapy solutions from Ball Ground, GA-based CAIRE during the recent COVID-19 pandemic.
"The Consul General's visit was a historic occasion — being that it was the first time a U.S. government official has visited our Chengdu facility," said Mr. Aaron Jing, Director of Operations. "We are thankful for the support of this important agency, and the assistance they offered in logistics and navigating transportation issues — identifying potential solutions through utilization of key hubs like Guangzhou."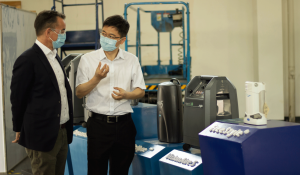 The visit helped establish the beginning of relationship to support the transport of oxygen therapy medical devices and parts between the U.S. and China, and laid the groundwork for preparations to address any future impacts to trade affecting the industry.
In early February, CAIRE's Chengdu facility was the site of key decisions regarding safety and quarantine recommendations to protect the health of employees and the facility. Because of this leadership, the plant was able to return to operations quickly to support European customers impacted by the virus.
During the visit, the CAIRE team learned about the variety of ways the consulate works and supports U.S.-based companies with locations in China. Future plans could include trade missions events, and the organization of educational symposiums.
In addition to Chengdu, CAIRE's manufacturing sites at the global headquarters in Ball Ground, GA, and Buffalo, NY, have expanded production and continue to fill orders for stationary oxygen concentrators, liquid oxygen vessels and commercial generators for customers — particularly from those who are providing emergency aid in pandemic hot zones.
According to the World Health Organization 14 percent of people developing severe symptoms from COVID-19 will require hospitalization and oxygen support which is delivered via nasal cannula or mask to the patient.