Click the link to read the May/June 2020 issue of HME Business. Our ad is featured on page 23 in the Oxygen Care section.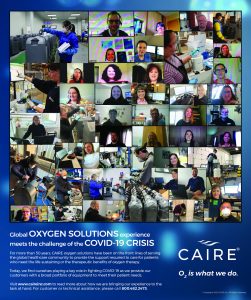 Experience the oneCAIRE difference — our hands-on, consultative approach, offering a complete portfolio of oxygen systems that will provide your patients the oxygen therapy they need, and also allow your business to grow and operate more efficiently.
Oxygen therapy solutions — portable, stationary and liquid oxygen systems — for the entire continuum of care
Clinically efficacious, interactive oxygen delivery features including autoSAT® and telehealth solutions
A lower total cost of ownership backed by reliable, long-term performance
Business support programs including retail, non-delivery, hospital discharge and training
Learn more by calling 800.482.2473 or emailing CAIRE.request@caireinc.com.