CAIRE Hospital O2 Discharge Program
Improve patient care and efficiency with a powerful, single-source oxygen therapy device.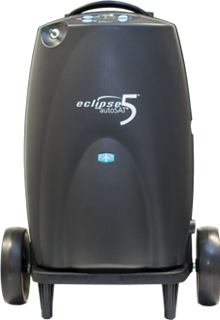 The CAIRE Hospital O2 Discharge Program features the clinically-proven Eclipse 5® portable oxygen concentrator. Suitable for 24/7 use, the Eclipse 5 can operate as a portable or stationary oxygen concentrator, offering pulse dose settings up to 9, and continuous flow settings up to 3 LPM.
Because of this flexibility and the ability to cover a broad range of prescriptions, it is the ideal product with which to equip your oxygen therapy patient at the point of discharge from the hospital or medical facility. Enjoy the cost savings and convenience of scheduling your follow-up in-home consultations during regular business hours, and avoiding after hours, weekend and inclement weather visits.
Also, reduce worry for your patients and their caregivers with the ease of teaching them how to operate one, simple-to-use O2 device that offers them the ability to stay mobile after discharge and easily travel to follow-up appointments with physicians – both essential elements in reducing hospital readmissions.
Supporting educational materials and training provided by CAIRE will help ensure that your staff is prepared for these patient set-ups as well as the discussions with the clinicians.
CAIRE O2 Discharge Program Benefits
CAIRE O2 Discharge Program Benefits ~ Clinician
The Eclipse 5 comes equipped with:
Continuous flow settings 0.5 – 3.0 LPM
Pulse flow settings 1-9
Suitable for use at home, nocturnally, and with a 50' cannula
For use anywhere via AC, DC, and rechargeable battery power
Easily transportable via rolling cart with adjustable handle
Meets FAA guidelines for commercial air flights
Bill both HCPCS E1390 and E1392 codes
Clinical features of the Eclipse 5®:
autoSAT® technology adjusts motor speed with patient's breath rate to ensure consistent bolus is delivered with every breath
Adjustable rise time allows you adjust the speed of the bolus delivery based on the patient disease state and breathing pattern
Adjustable sensitivity allows you to adjust the trigger based on the patient breathing so that no breaths are skipped, and they can trigger comfortably
Bolus sizes up to 192 mL allow you to cover more patients with a single device
The Eclipse 5 will enable you to continue to provide exemplary care to patients during their critical time of need, help improve referral sources and patient outcomes, and may also improve operational efficiency and profitability of your business.
Contact Us
Send Us A Message
*By submitting this information, I authorize CAIRE to contact me including by phone.