Buffalo, NY, May 5, 2021 – Oxygen shortages at hospitals and medical centers all over the globe have medical plant engineers and administrators looking for solutions to ensure they are prepared to meet the ongoing demands for patients admitted with COVID-19, pneumonia, and other serious respiratory conditions.
AirSep Corporation, a division of CAIRE Inc., has extensive experience offering solutions for delivering oxygen in commercial applications – particularly the Oxygen Cylinder Refilling System – designed for those institutions looking to replace older liquid systems, or inadequate systems unable to support the fluctuating overflow needs for oxygen therapy during the pandemic.
AirSep Oxygen Cylinder Refilling Systems enable customers to fill oxygen cylinders for existing needs or to supply others. Using an air compressor, AirSep Oxygen Cylinder Refilling Systems are designed to produce oxygen on-location at up to 2,200 psig (15,169 kPa or 151.6 barg) to a high pressure manifold capable of filling up to 10 cylinders at a time. Complete plants include a feed air compressor, chiller, oxygen generator, oxygen compressor, and a cylinder filling rack.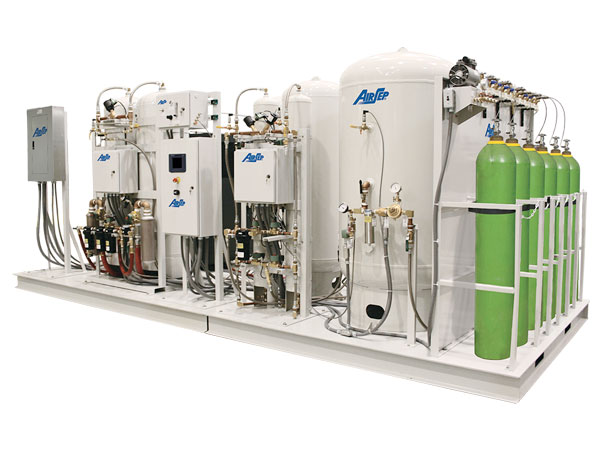 These cylinder refilling plants operate automatically and generate nominal 93% oxygen. For special applications, an optional high purity module can be added to the plant, to increase oxygen concentration to 99% ±.5%.
A user generally will either produce oxygen for their own use or will produce and distribute oxygen in cylinders on the open market.
The plant operates automatically after start-up, and the PSA Oxygen Cylinder Refilling System can pressurize multiple oxygen cylinders simultaneously. When the oxygen cylinders become full, the oxygen compressor shuts down to allow removal of filled cylinders and connection of empty cylinders. At the same time, the oxygen generator and the air compressor continue operation to maintain the concentration of the product oxygen.
AirSep Unique Features
Skid-mounted (containerized options available)
Secure rack with safety chain that can hold multiple oxygen cylinders
AirSep provides the correct fitting for filling oxygen cylinders per the customer needs
All components are oxygen compatible
Vacuum pump evacuates any contaminants that may remain in the oxygen cylinders after use
Automatic shutdown when cylinders are full
Option to direct oxygen supply to end application while the cylinders are being filled
Bacteria filter option for medical applications
Flowmeter
Customization accepted per the needs of the end application
Can be fabricated in accordance with all relevant local codes
AirSep Oxygen Cylinder Refilling Plants can be installed as a single system to supply oxygen directly to the distribution system (e.g. hospital pipeline) with oxygen cylinders acting as a backup. Oxygen cylinders can be filled simultaneously or during hours with low consumption.
Some customers have opted to purchase a duplex system and use one system for direct supply and the other system for cylinder filling. Per ISO 7396:2016 three sources of supply are needed – one for direct oxygen, one for back-up oxygen and one cylinder bank. All three could be achieved using a duplex system.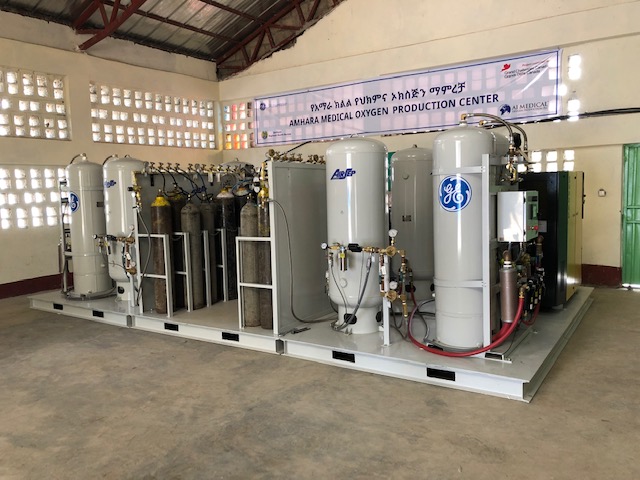 Advantages
Cost-effective
Unattended, automatic operation
Independence from bulk liquid gas suppliers & price increases
Enables users to potentially manage their own business
Easy to operate & maintain
Lowest power consumption per cubic foot of oxygen produced
Unlimited oxygen production from compressed air
Automatic switchover
Typical Applications
Hospitals and Medical Facilities
Thermal / Chemical Oxidation
Metal Fabrication/Cutting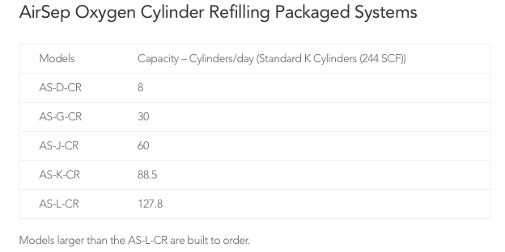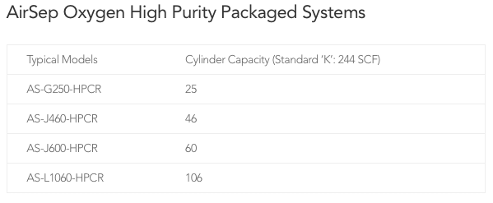 AirSep manufacturers a complete line of turnkey oxygen cylinder refilling plants — with capacities from 8-100s of cylinders per day. Contact an AirSep representative to learn more about how AirSep's PSA Oxygen Generator systems extensive product offering can help solve many of today's oxygen supply challenges, please visit www.airsep.com or contact us at 1-716-691-0202 or cpd@caireinc.com.