Buffalo, NY, July 13, 2022 – The first ever AirSep PSA Oxygen System in the Republic of Mozambique was installed in April 2022 bringing much needed medical aid to the region. AirSep partnered with the United States Agency for International Development (USAID) and Mozambican Government to activate this project designed to provide desperately needed medical oxygen in this Southeastern African country. The Monapo Hospital in the town of the same name in northern Mozambique now can produce enough oxygen to treat 25 COVID-19 patients with severe symptoms while treating up to 150 patients with milder oxygen needs.
The AirSep PSA Oxygen System generates medical-grade oxygen on-site and uses compressed air as a feed gas to produce oxygen. The oxygen system uses an inert ceramic material called molecular sieve in its adsorber vessels to separate air into product oxygen and other gases. The entire oxygen generating process is completely regenerative, which makes it both reliable and virtually maintenance-free.
This AS-J600-HMFM PSA Oxygen System is containerized to accommodate for the remote area. It also is designed to continuously supply oxygen and has cylinder refilling capability. Cylinders can be filled with high-pressure oxygen at the designated concentration, and those can be distributed to nearby medical facilities.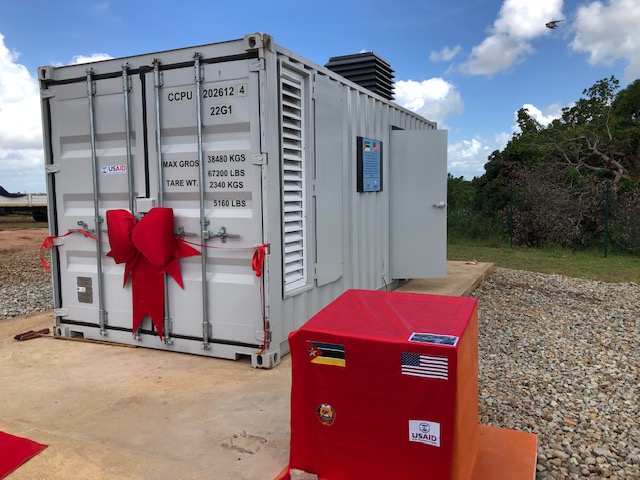 AirSep AS-J600-HMFM PSA Medical Oxygen System inaugurated at the opening ceremony

Angelo Barberic, AirSep Regional Sales Manager, Europe, Russia/CIS, ME, joined the USAID Deputy Director Martin McLaughlin, the USAID team, Monapo District Hospital representatives for the official opening

Healthcare officials inside of the AirSep AS-J600-HMFM containerized PSA Oxygen System
Throughout the COVID-19 pandemic, USAID, JHPIEGO and Chemonics have offered essential support to local communities and healthcare providers as they care for those suffering from COVID-19 and address the necessity for a reliable, continuous oxygen supply. The new AirSep oxygen system and ongoing help are vital to ensuring hospitals can treat more patients and supply oxygen for medical use, helping to protect the health and safety of the community.
To learn more about how AirSep's extensive product offering can solve your oxygen supply challenges, please visit airsep.com or contact us.