Buffalo, NY, August 4, 2021 – In nature, oxygen plays a vital role in the growth and health of fish within their underwater habitats.
Fish farmers know this well as they manage farm density, fish growth and ongoing production increases to achieve greater yields to meet demand. They also know the power of additional dissolved oxygen in the water to increase production rates.
An AirSep AS-J PSA Oxygen Generator is in use at a tilapia fish farm just outside of Calgary, Alberta, Canada – home to Bar None Ranches, an agricultural business and farm operation.
Bar None Ranches recently diversified its business by renovating and repurposing a horse barn last year to grow tilapia. The AirSep oxygen system serves as the main oxygen supply to the aquaculture tanks and delivers oxygen that meets the USP XXII Oxygen 93 Percent Monograph.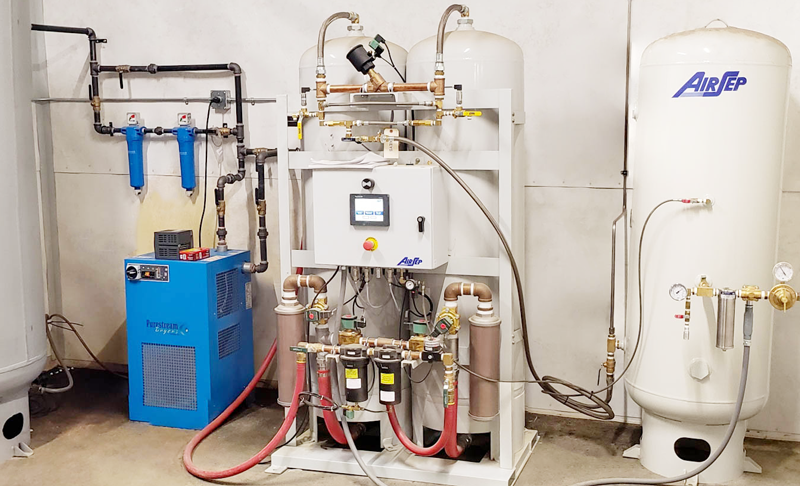 A standard AirSep Model AS-J PSA Oxygen Generator – installed in 2020
The decision to install an AirSep Oxygen Generator system (and air compressor) was a big one because of the cost savings. They found that renting and filling a large oxygen tank on a regular basis was the same as the one-time cost of purchasing an AirSep Oxygen Generator system (and air compressor).
The major difference was moving from an operational cost, to a capital cost which is more beneficial because the AirSep Oxygen Generator could be used long-term, allowing them to save money in the future and long-run. With AirSep Oxygen Systems, there are no deliveries, contracts, or fees. Producing the oxygen on-demand can pay for itself. AirSep Oxygen Systems are truly an economical and cost-effective choice.
"We would recommend AirSep. We like the reliability of the AirSep Oxygen Generator. It requires minimal maintenance and is running rather well at a consistent oxygen concentration…" – Bar None Ranches Representative
To learn more about how AirSep's extensive product offering can solve your oxygen supply challenges, please visit airsep.com or contact us. We will be happy to discuss your oxygen needs.