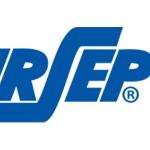 How AirSep Oxygen Systems are helping animal patients
Buffalo, NY, May 1, 2020 – AirSep oxygen systems are a great alternative to liquid oxygen or high-pressure oxygen cylinders in commercial applications serving (or supporting) veterinary professionals all over the world. The oxygen can be generated 24 hours a day, 7 days a week and is able to support critically-ill non-human patients both large and small. Since the 1990s there has been an ever-increasing demand for on-site oxygen delivered via a more safe and cost-effective option, with easy installation and operation by vets and technicians.
All AirSep oxygen systems utilize the same basic technology, Pressure Swing Adsorption (PSA), which involves alternately swinging the pressure of gas within a vessel filled with molecular sieve. On the pressurization swing, oxygen is produced. On the depressurization swing, the sieve is regenerated. To generate oxygen, air is supplied to the unit by either an internal or external air compressor. Two adsorber vessels (beds) which are alternately pressurized, produce oxygen. A regenerative adsorbent material removes the nitrogen. The final product is up to 95.5% pure oxygen, which can be stored in an internal or external receiver.
AirSep, located in Buffalo, NewYork, supplies both portable and wall-mounted oxygen concentrators for smaller clinics ranging in capacity from 8 LPM (liters per minute) to 15 LPM. The AirSep Centrox and Reliant oxygen generators can be used in veterinary clinics and suitable for use with anesthesia machines and ventilators.
AirSep Standard Oxygen Generators work well for larger facilities, such as in the case of a 24-hour emergency/critical care and specialty veterinarian practice based in southern California. This facility has an AS-G as their main source of oxygen. This unit operates continuously for their critical care oxygen cages, as well as for any time they have a patient under anesthesia for a procedure.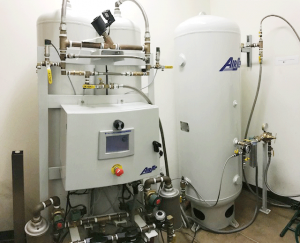 Near the Chicago, IL area, a veterinary hospital recently installed an AS-B oxygen generator which will in turn triple their oxygen delivery volume. Since their practice has grown, it was necessary to find a system with more capacity to supply oxygen to the increased number of patients.
"We wanted the same reliability as the Reliant. That is why we returned to AirSep," said Charles Bulson, Project Manager at Golf Rose Animal Hospital.  In addition to their new AS-B oxygen generator, they keep the older AirSep Reliant system as a backup source for oxygen downtime during maintenance procedures.
Many veterinary facilities have observed a reduction in costs after installing AirSep oxygen systems in place of outdated technology and high-pressure oxygen cylinders that require re-certification approximately every five years. In fact, these centers typically see that their investment in an AirSep oxygen system pays for itself with a short period of time.
AirSep recommends that veterinarians first analyze the cost of oxygen used at their facilities, taking into account rental fees on cylinders and delivery fees, including emergency delivery surcharges before considering the investment in an oxygen generator. Assessing these costs can show the potential savings an AirSep oxygen system can create for the animal clinic or hospital.
Benefits of using an AirSep Oxygen System include:
Efficient, low operating cost minimizes oxygen expenses
Produces oxygen from compressed air
Convenient and low-pressure operation
Reliable, safe, unattended operation assures oxygen is available 24-hours a day
Today, veterinarians have the option to benefit from low cost oxygen produced by oxygen generators. They can increase care profitably, independent of liquid and oxygen cylinders.
For over 33 years, AirSep Oxygen Generators have been a proven alternative to any other oxygen source, reliably producing oxygen, 24/7. AirSep's high-quality products are easy to maintain, and are the most cost effective and the safest oxygen sources available for applications such as veterinary medicine.