Buffalo, NY, February 16, 2022 – Municipal and industrial wastewater systems, a major element of public infrastructures are the most essential for everyday life. Wastewater treatment facilities in North America process approximately 60 gallons per person, per day.
Even though water and wastewater systems are critical components to our society and public health, aging and outdated systems have fallen into a state of disrepair over the years due to lack of maintenance and needed upgrades and expanded capacity. End-of-life and repairs of these systems can become too costly to maintain and this can lead to less effective treatment or infrastructure failures such as leakage causing unnecessary pollution.
AIrSep, manufacturer of PSA Oxygen Generators, recommends that you ask yourself the following questions to evaluate if it is time for you to upgrade your system.
Have your energy costs been steadily increasing?
Have you seen an increased amount of untreated water?
Have you seen population growth that is affecting your capacity?
Is your equipment and technology outdated?
Are you challenged for space or infrastructure for expansion or upgrades?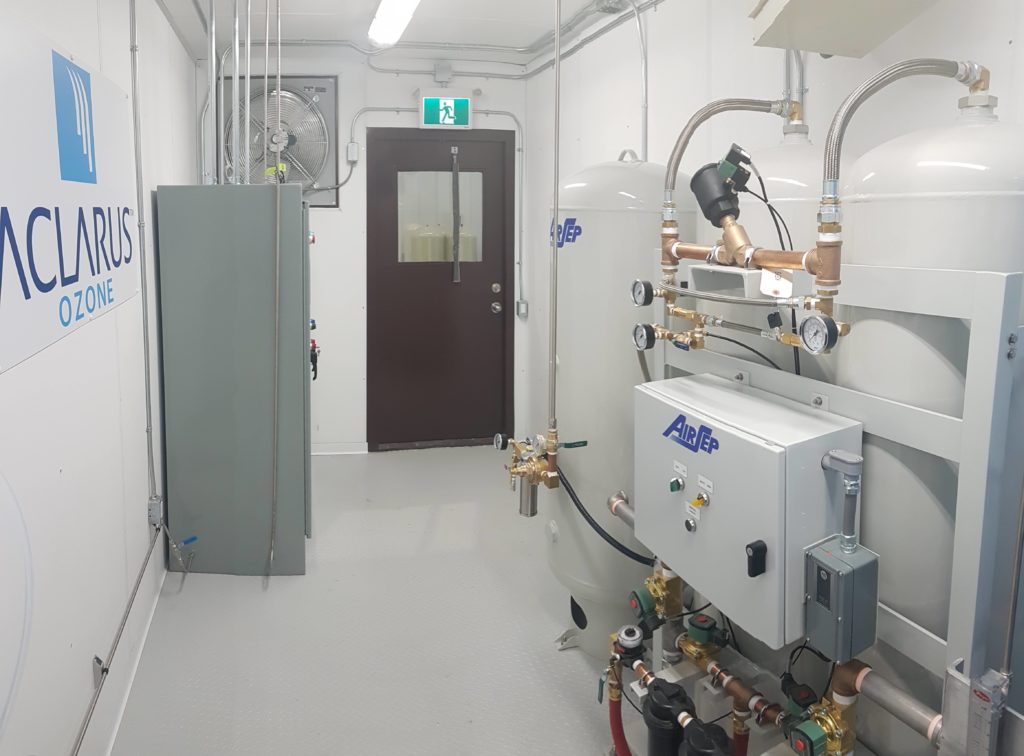 AirSep AS-J PSA Oxygen Generator as part of a municipal wastewater system
A newer system can help improve economic growth with reduced capital and operational costs while improving environmental impacts. Inside of a containerized wastewater system in Canada, an AirSep PSA Oxygen Generator is included as a major component to an Aclarus Ozone System. It can produce up to 600 SCFH of oxygen. The oxygen generator feeds oxygen to the ozone system to create ozone gas which disinfects, oxidizes, removes colors and organics, contaminants of concern, while increasing dissolved oxygen levels in water. The previous system used at this same facility was chlorinating the water, which disinfected, but created harmful byproducts and limited overall treatment ability. By replacing the chlorination system, the community can now meet new environmental regulations while reducing overall costs and treatment while protecting the local environment.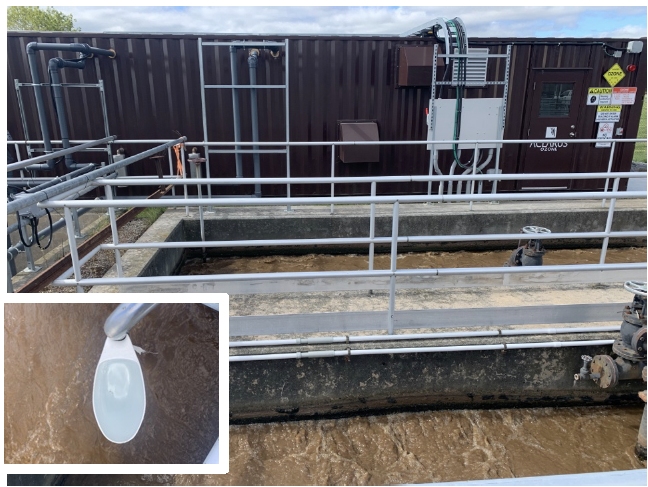 Close-up of wastewater sample after treatment
AirSep PSA Oxygen Generators offer many advantages for wastewater treatment, including:
Ability to serve a variety of applications from 8 to 5,500 cubic feet of oxygen per hour at up to 95% oxygen concentration
Requiring a small footprint
Offering ease of maintenance and installation: incorporate into the treatment process without interruption of service
Can be used as needed and operated independently
Ideal for treating specific areas with low dissolved oxygen with injections
Creating healthy bacteria, and reduce and control odor
Generate savings even with higher production needs
Benefits of the upgraded wastewater treatment system:
Dual train duty stand-by for retro-fit of existing infrastructure minimizes capital expenditures and existing space
Peak flow of 4500m3/day (825 US GPM), rated flow of 1500m3/day (275 US GPM)
Includes the AirSep AS-J PSA Oxygen Generator and 1.1Kg/hr ozone generator including advanced injection/mixing, inline monitoring, control and safety; automated
Tertiary final treatment and disinfection processes occur prior to discharge into the environment; only oxygenated water after treatment
Meets and exceeds government regulations for municipal wastewater effluent
Additional benefits of color/odor removal, increased dissolved oxygen, treatment of CEC's (contaminants of emerging concern e.g. R/X, hormones, etc…)
Lower OPEX, higher quality treatment, future expansion ready
In addition to the containerized system installed, a major facility is being constructed that will not only tie-in today's innovative treatment options, but be fully integrated into this containerized system when complete.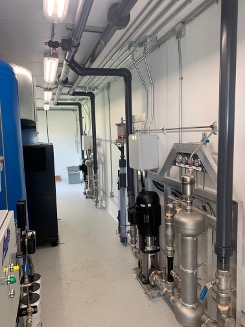 Interior view of containerized wastewater system with AirSep's AS-J PSA Oxygen Generator on the left
To learn more about how AirSep's extensive product offering can solve your oxygen supply challenges, please visit airsep.com or contact us.