Buffalo, NY, February 1, 2021 – from gasworld's Air Gases Issue
AirSep Corporation, a CAIRE Inc. company located in Buffalo, NY, has manufactured oxygen systems for over 34 years building, strong relationships with customers all around the world to help maximize their business needs using PSA and Vacuum Pressure Swing Adsorption (VPSA) technology.
Many businesses are looking to AirSep for sustainable solutions utilizing the power of oxygen. One organization in particular produces biodegradable plastics from methane, a waste biogas. The excess methane gas from wastewater treatment plants is used to manufacture pellets of polyhydroxyalkanoate (PHA), a polymer that is converted into an assortment of eco-friendly plastic products used in packaging, children's toys and even clothing.
Another company manufactures environmentally-sound water and wastewater treatment equipment. With an oxygen generator integral to their system, the oxygen helps combat and control odors and improves the productivity at treatment facilities while reducing pollution and bacteria in water systems.
The gas separation process
AirSep oxygen generators and oxygen plants use two pressure vessels filled with molecular sieve as adsorbers. As compressed or pressurized air passes through one of the adsorbers, the molecular sieve adsorbs the nitrogen and other gases in the feed air supply. This allows the remaining oxygen to pass through and exit the adsorber as a product gas. Before the adsorber becomes saturated with nitrogen, the inlet air flow switches to the next adsorber. The first adsorber is now regenerated by desorbing the nitrogen and the other adsorbed gases through depressurization back to the atmosphere. The complete cycle then repeats. When large-scale oxygen production is required, VPSA, (Vacuum Pressure Swing Adsorption), is utilized. This process offers a significantly lower specific power, lower operating costs, while at the same time maintaining a high degree of mechanical reliability and a 99% on stream efficiency.
Supporting the creation of sustainable materials
Today oxygen is a key component in a number of applications that are making a difference in the creation of next generation sustainable materials. AirSep recently supplied an AS-K PSA Oxygen Generator to US manufacturer Mango Materials, innovator behind YOPP PHA Pellets, an alternative to traditional plastics and polyesters.
Oxygen generated through the system is used in a fermentation process where the end result produces a marine-biodegradable plastic. This type of plastic can be used in 3D printing, injection molding and made to create fibers for garments and textiles, as well as film material for flexible packaging.
Before Mango Materials installed their AirSep PSA Oxygen Generator at a wastewater treatment facility in Redwood City, CA, they were using oxygen cylinders. Cylinders may be obtained for a lower price initially, but present challenges over time due to handling and transportation costs associated with the logistics required for refill and replacement. With an AirSep PSA Oxygen Generator the oxygen is produced continuously, and the oxygen generator offers a rapid payback over traditional, delivered gas supplies.
Per Mango Materials, AirSep oxygen generators were the best suited to their size and need, with competitive pricing and lead times. In particular, AirSep systems ensured a high oxygen concentration and desired flow, coupled with a small footprint that was suitable for their needs.  With equipment that is simple to use and reliable, an oxygen generator is the safest way to generate the required high-concentration oxygen on-location. AirSep PSA Oxygen Generators can produce up to 95 percent oxygen concentration.
Conquer the odor, biological overload
AirSep also provides integral support to Inland Environmental Resources (IER). IER, based out of Spokane, WA, uses an AirSep AS-J PSA Oxygen Generator in their unique super-oxygenation technology, Gener-Ox. This chemical-free technology controls odors and corrosion in wastewater conveyance systems.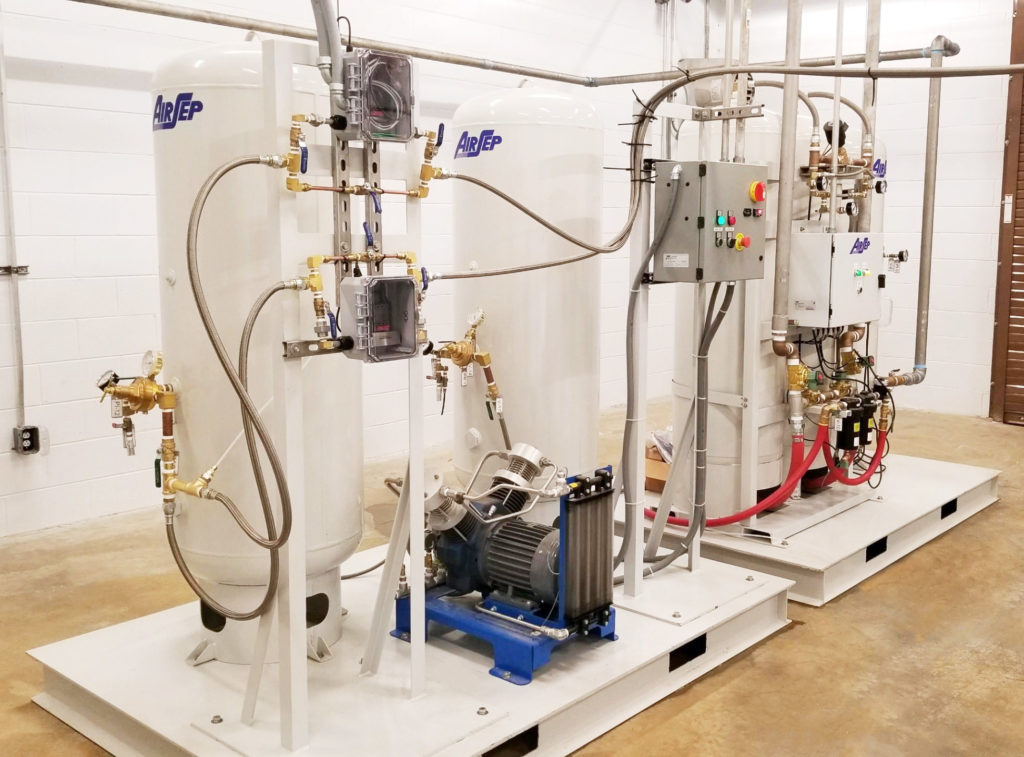 ©IER | AirSep AS-J PSA Oxygen System
Wastewater treatment is necessary to maintain the quality of our air and water. The Gener-Ox process converts anaerobic biology to aerobic biology and maintains that condition throughout the force main. The oxygen is introduced into the wastewater stream to convert anaerobic conditions (where odors and corrosion exist) to aerobic conditions (an absence of odors and corrosion). A number of wastewater plants throughout the USA now utilize this technology and application.
Before the team at IER had the AirSep Oxygen System installed, sulfide issues often caused H2S gas to escape through neighborhood manhole covers, leading many residents of Knoxville, TN to file complaints with the city. The AirSep AS-J PSA Oxygen Generator provided IER with a reliable source of oxygen and generated savings by eliminating the need for chemicals (such as chlorine) for odor control throughout the wastewater network.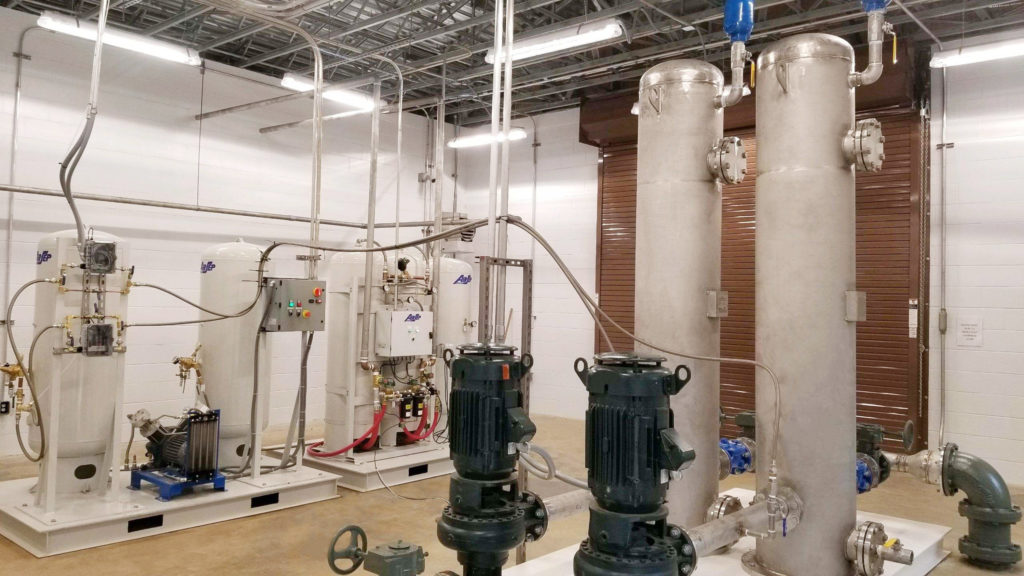 ©IER | AirSep AS-J PSA Oxygen System and saturators
One of the primary reasons for selecting AirSep Oxygen Generators was the convenience, safety, and cost savings when compared to managing bulk oxygen tanks. An AirSep Oxygen Generator generates oxygen on its own, as needed, in addition to providing a chemical-free way to operate the system.
Why integrating an AirSep oxygen system is better for the environment:
Minimize product waste: no product loss due to venting
Eliminate truck deliveries: reduced fuel consumption and oxygen is made on-demand as needed, without the use of cylinders
Minimize energy consumption: systems are energy-efficient, consuming less electricity than a cryogenic system
AirSep's broad portfolio of products has established the company as the undisputed leader in non-cryogenic on-location gas generation. Whether the application requires a self-contained generator, standard generator, packaged system, or a large plant, AirSep delivers innovative solutions for just about any oxygen requirement.
AirSep offers an extensive selection of oxygen equipment that can fit the need of practically any application and help solve many of today's oxygen supply challenges. For more information on our oxygen products please visit www.airsep.com or contact an AirSep representative today at 716-691-0202.