Buffalo, NY, April 22, 2020 – Since the outbreak of novel coronavirus, COVID-19, AirSep Corporation, a division of CAIRE Inc., has seen a higher demand in oxygen generators globally particularly in Russia and the Ukraine.
Self-contained PSA oxygen generators, like AirSep's Reliant and Centrox products, 220 V versions available for export only, are used primarily for medical oxygen supply. Larger than a traditional stationary oxygen concentrator, an AirSep oxygen generator can deliver higher pressure, 50 pound per square inch gage (PSIG) or higher.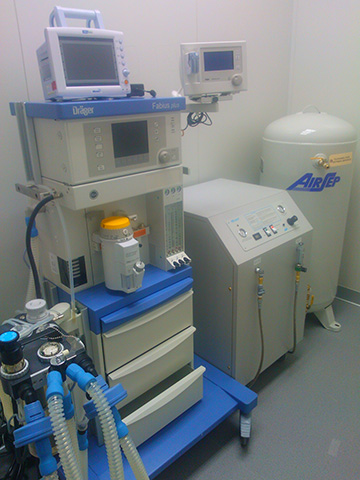 Recently medical clinics have set up ventilators to help support breathing in patients whose lungs have been seriously impacted by the COVID-19 virus. Many patients are experiencing shortness of breath and difficulty breathing due to the virus infecting the respiratory tract and damaging the lung's alveoli, which is where oxygen enters the blood and carbon dioxide passes.
To alleviate these harsh symptoms, Reliant and Centrox oxygen generators can connect directly to the ventilator and together these technologies supply oxygen to the patient allowing more time for their lungs to recover and regain function.

The portable Reliant and wall-mounted Centrox units are well-suited for smaller clinics that generally lack a central piping system. Equipped with air compressors, these generators require no special installation. The oxygen outlet connects to the oxygen distribution system and the power cord to a grounded electrical outlet. The unit can then be turned on and the oxygen flow rate may be set. Both systems feature an oxygen concentration monitor.
AirSep's dedicated employees are delivering and pushing forward with expedited shipments to meet the demand of these products to customers that are depending upon AirSep oxygen products to care for critically ill patients during this unprecedented time.
"AirSep is committed to supporting customers worldwide with high quality products and services. I am confident we can deliver because we have some of the most talented people in this industry working diligently. We remain open and ensure we provide top-notch products while keeping our employees safe," said Lawrence Hughes, AirSep Vice President and General Manager.
AirSep offers innovative, economical, non-cryogenic oxygen supply solutions as an alternative to cylinder or liquid supplies. For over 33 years, AirSep Oxygen Generators have been a proven alternative to any other oxygen source, reliably producing oxygen, 24/7. Easy-to-maintain, AirSep's high-quality products offer the most cost effective, safest oxygen sources available.